IFC-98 Cubicle Track with IFC-100 roller carrier (shown) or the IFC-600 spool-type carrier is designed to be surface mounted, suspended or recessed. Section size is 1-3/8" x 3/4" x 058" wall thickness. Extruded of 6063-T5 Aluminum alloy. Track has 204-R1 satin anodized finish or a white acrylic electrostatic paint. Tracks are custom fabricated to shape and size in one continuous piece, whenever possible. All radi are 12". IFC-100 Carriers have virgin nylon bodies, steel bead chains and hard alumiinum hooks. End stops and removable snap-outs furnished with all tracks.
NOW AVAILABLE IN WHITE!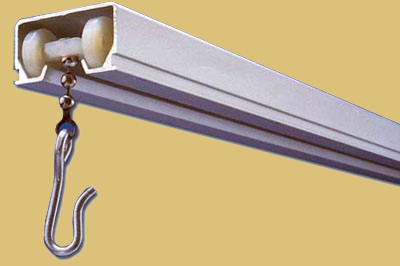 If you are planning any design project,
you can rely on Commercial Draperies Unlimited for service, quality and price.
Call us at 914-381-0413 to speak with a representative today!
You'll be glad you did.